W E L C O M E T O O X F I E L D
The Oxfield Community & Leisure Centre offers a diverse range of facilities for use by the entire community. Situated in the heart of Drumcliffe in North Sligo, Oxfield is home to wide range of community organisations, groups and clubs, including:
Happy Days Playschool, North Sligo Athletics Club, Drumcliffe Rosses Point GAA Club, Yeats United Soccer Club, Oxfield Walking Club, Drumcliffe Community Games, Oxfield Ladies Volleyball, Drumcliffe Handball Club, Higashi Karate Club, North Sligo Basketball Club, MetaFit Fitness, Zumba, Yoga, Cyclefit, Sligo Aerial Remedy, Foroige Youth Club, 11th Sligo Benbulben Scouts and many more.
T H A N K Y O U
Every year the on-going work at the Oxfield Community Centre is generously supported by a huge number of local businesses and individuals, whether through sponsorship or donations. For this support we are eternally grateful, and to those supporters and sponsors we say a big THANK YOU!
OXFIELD 'THANK YOU' LEAFLET 2020: Following completion of almost a decade of redevelopment at the Oxfield Centre, we were delighted to distribute a special 'Thank You' leaflet to every household and business in our area in order to say a big thank you for all the support and sponsorship over the years. Click here to see leaflet.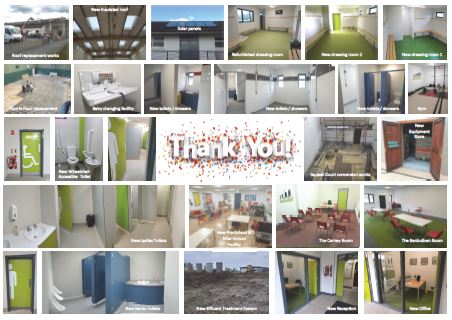 O X F I E L D N E W S
OXFIELD RE-OPENS: In line with Government health guidelines, the Oxfield Centre is now open for business. Limitations on numbers and requirements regarding social distancing, contract tracing and insurance apply. For details contact our Bookings Officer on 087 0669516 [27/07/2020]
CAR TEASURE HUNT - Sunday Aug 30th:
COMING SOON - Stronger for Longer: In association with the Sligo Sports & Recreation Partnership (SSRP) we hope to be commencing new 'Stronger for Longer' programme for the more senior members of our community, to help keep up their physical health and wellbeing. Stay tuned for more details in the coming weeks.
B O O K I N G S
You can book our multi-purpose community spaces, meeting rooms, committee rooms, class rooms, indoor community/sports hall, outdoor facilities, etc - for inquiries please contact us on 087 066 9516.
B I R T H D A Y P A R T I E S
Oxfield is becoming a popular venue for activity filled birthday parties - for more info, please us on 085 212 3208 or 087 066 9516 (Note we may not be in a position to host parties during periods where improvement works are being undertaken)