The 2018 Draw...
The 2018 Oxfield Members' Draw took place in the Yeats Tavern on December 23rd, 2018. With the generous support of the community and our sponsors, we have raised our target of €40,000.
The top prize of €3,000 cash (kindly sponsored by the Davis Family @ The Yeats Tavern, Drumcliffe) was won by Nuala Gallagher. Congrats Nuala!
The other 20 prize winners are listed below. Congrats to each and every one!
And of course a big thank you to our unbelievable Team of volunteers and supporters who gave up their free time over the last 3 to 4 weeks selling tickets within and beyond the community, It is these people who make the magic happen!
Your Support...
Oxfield will now through approved grant aid funding transform every €50 received into €200 for direct capital expenditure in our community facilities... for you, your family, your neighbours, your clubs, and your local community groups. Now that really is some bang for your buck!!! The new facilities will include:
● New effluent treatment system ● New dressing room ● New gents toilets ● New storage spaces ● Two new community spaces by converting the old squash court ● Replace old external windows & doors ● Refurbish the existing outdoor dressing rooms & external toilet ● Create a new reception desk for the Centre ● Provide a new broadband connection and WiFi.
Thank You... From Everyone at Oxfield
Angela Davis presents €3,000 to Oxfield Chairman Michael Kilcoyne as the main prize in the 2018 Oxfield Members' Christmas Draw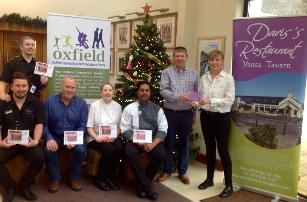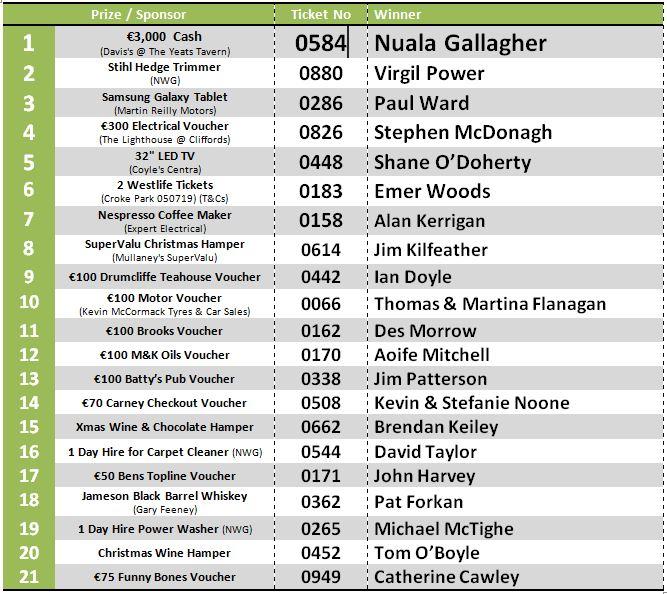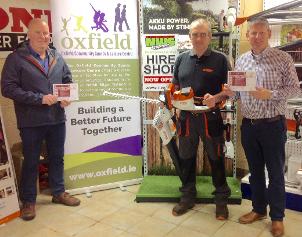 Ronan Kerrigan from North West Grass Sales Service & Hire in Rathcormac presenting a STIHL Hedge Trimmer to Oxfield as 2nd prize
.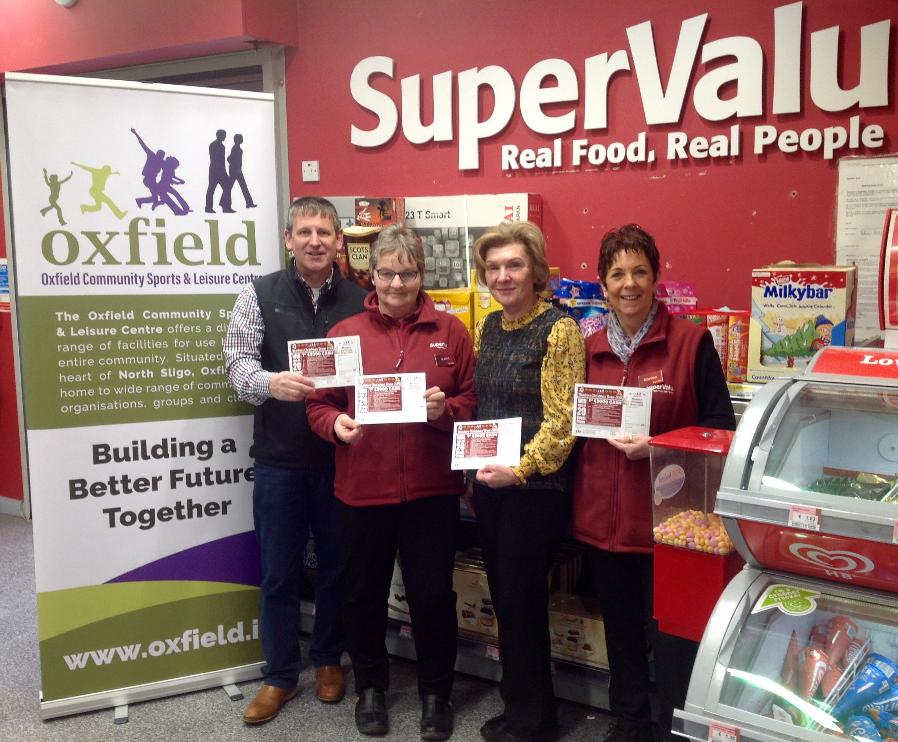 Martina Mullaney SuperValu Grange is sponsoring a Monster Hamper as 8th prize for the Oxfield Draw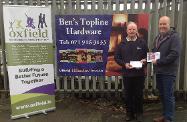 Michael Mc Donagh (Bens Topline Hardware) presenting Damien Kerrigan (of the Oxfield management committee) with a Voucher as a prize in the Oxfield Members Christmas Draw 2018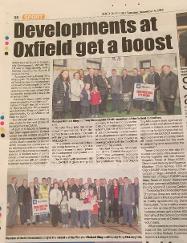 Oxfield development project getting full coverage in the Sligo Champion (Dec 2018)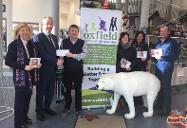 Oxfield Sponsor The Lighthouse at Clifford Electrical Carraroe Sligo presents €300 Voucher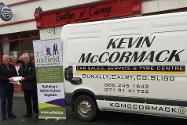 Oxfield Christmas Draw 2018 Sponsor Kevin Mc Cormack (Car Service Tyres & Sales) presenting 10th prize (voucher) to Oxfield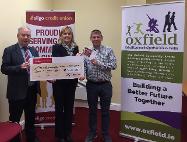 Sligo Credit Union give a generous donation to the Oxfield Community Sports & Leisure Center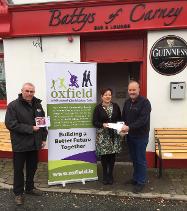 Anne Mc Cormack, proprietor Battys of Carney Bar & Lounge , presents a voucher to Oxfield as 13th prize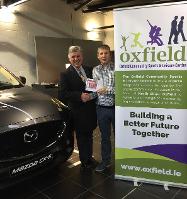 Martin Reilly Motors sponsoring a Samsung Galaxy Tablet for the Oxfield Community Sports & Leisure Center Christmas Members Draw
A BIG THANK YOU to all our 2018 Draw Sponsors:
Davis's Restaurant @The Yeats Tavern, Drumcliffe
Northwest Grass Machinery, Rathcormac
Martin Reilly Motors, Carrowroe
The Lighthouse @ Clifford Electical, Carrowroe
Coyles Centra, Cartron
Expert Electrical, Sligo
Mullaney's SuperValu, Grange
Jill Barber @ The Drumcliffe Teahouse
Kevin McCormack Car Service, Tyres & Sales
Brooks Building Supplies, Sligo
M&K Heating Oil, Sligo
Batty's of Carney Bar & Lounge
The Sligo Credit Union
Heather Langan
Michael Flannery Car Sales, Rathcormac
Carney Checkout
Bens TopLine Hardware, Drumcliffe
Gary Feeney
Michael Murphy Sports, Letterkenny
Henry's Bar & Restaurant, Cashelgarren
Air Products
EJs Mensware, Sligo
EJs Little Sister, Sligo
Belfry Bar, Sligo
Embassy Steakhouse, Sligo
Greengrass Landscapes
Ciaran McHugh Photography, Carney
Printfix, Sligo
Impact Ireland Metals, Dublin
P&D Northern Steels, Manchester
And a BIG THANK YOU to you for your support!