Why fundraise...
Oxfield has secured approval for over €200,000 of grant aid from Sligo Leader, Sports Capital, and Sligo County Council. To avail of this funding, we must raise €40,000 matching funding. For that we will deliver:
● New effluent treatment system ● New dressing room ● New gents toilets ● New storage spaces ● Two new community spaces by converting the old squash court ● Replace old external windows & doors ● Refurbish the existing outdoor dressing rooms & external toilet ● Create a new reception desk for the Centre ● Provide a new broadband connection and WiFi
Check Out Our Draw Info Leaflet...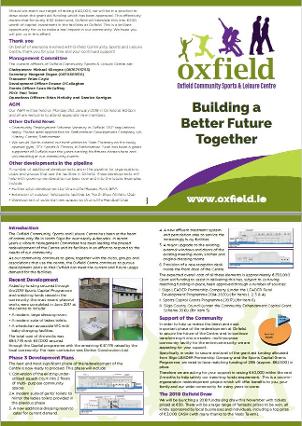 The 2018 Draw...
The 2018 Oxfield Members' Draw gives you a chance to win one of over 20 fantastic prizes, including a top prize of €3,000 cash (kindly sponsored by the Davis Family @ The Yeats Tavern, Drumcliffe).
Tickets cost €50 each. Our team of volunteers and supporters are currently on the roads, and hope to call to every house in our catchment area.
The draw itself will take place in the Yeats Tavern on December 23rd, 2018, at 10pm. It promises to be a great night and we all look forward to seeing who will walk away just before Christmas Eve with €3,000 cash and all the other great prizes!
Full Prize List...
€3,000 Cash (Davis's @ The Yeats Tavern)

Stihl Hedge Trimmer (NWG)

Samsung Galaxy Tablet (Martin Reilly Motors)

€300 Electrical Voucher (The Lighthouse @ Cliffords)

32" LED TV (Coyle's Centra)

2 Westlife Tickets (Croke Park 050719) (T&Cs)

Nespresso Coffee Maker (Expert Electrical)

Christmas Hamper (Mullaney's SuperValu)

€100 Voucher for Drumcliffe Teahouse

€100 Voucher for Kevin McCormack Tyres & Car Sales

€100 Voucher for Brooks Building Supplies

€100 Voucher for M&K Oils

€100 Voucher for Batty's Pub

€70 Voucher for Carney Checkout (T&Cs)

Christmas Wine & Chocolate Hamper

One Day Hire for Carpet Cleaner incl upholstery tool and 1 bottle of shampoo (NWG)


€50 Voucher for Bens Topline Hardware

Bottle of Jameson Black Barrell Whiskey (Gary Feeney)

One Day Hire for 2200 psi Power Washer (NWG)
Your Support...
This is a once in a generation development project. If successful it will greatly benefit our community. For every €50 ticket sold, Oxfield will through approved grant aid transform it into €200 for direct capital expenditure in our community facilities... for you, your family, your neighbours, your clubs, and your local community groups. Now that really is some bang for your buck!!!
But this only happens if we all pull together, so please support the draw... buy a ticket... and if possible sell 1 or 2 also!
Thank You... From Everyone at Oxfield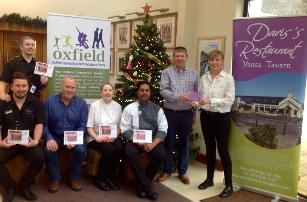 Angela Davis presents €3,000 to Oxfield Chairman Michael Kilcoyne which will be the 1st prize in the 2018 Oxfield Members' Christmas Draw, which takes place December 23rd in The Yeats Tavern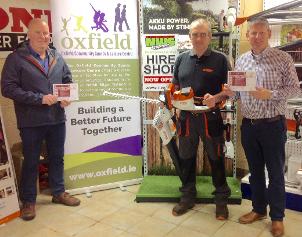 Ronan Kerrigan from North West Grass Sales Service & Hire in Rathcormac presenting a STIHL Hedge Trimmer to Oxfield as 2nd prize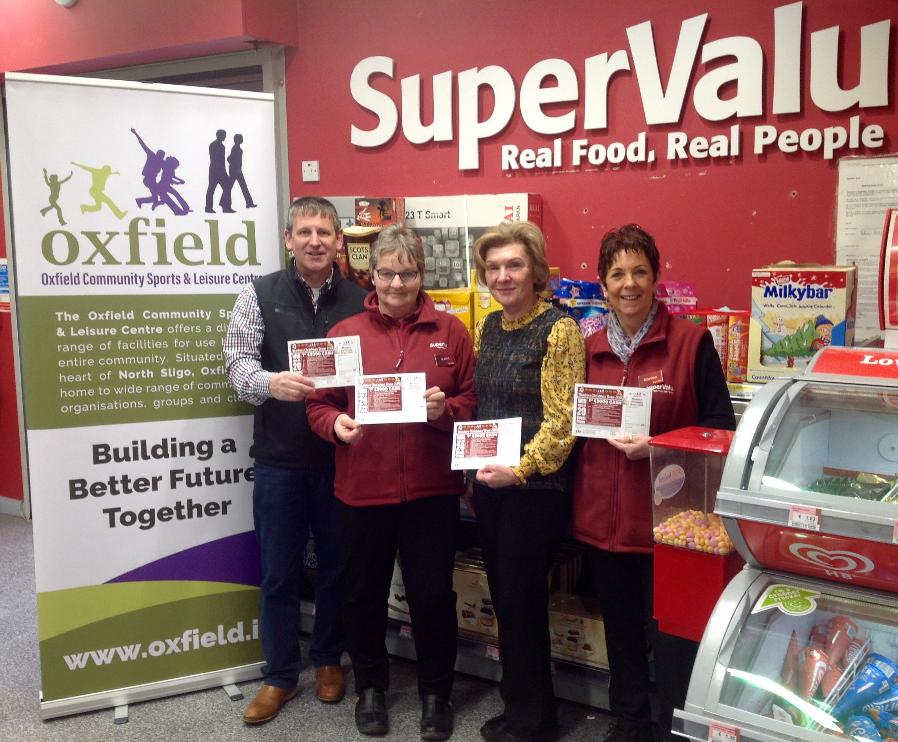 Martina Mullaney SuperValu Grange is sponsoring a Monster Hamper as 8th prize for the Oxfield Draw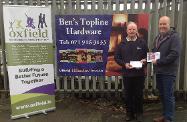 Michael Mc Donagh (Bens Topline Hardware) presenting Damien Kerrigan (of the Oxfield management committee) with a Voucher as a prize in the Oxfield Members Christmas Draw 2018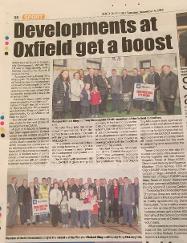 Oxfield development project getting full coverage in the Sligo Champion (Dec 2018)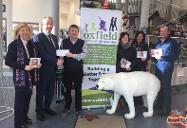 Oxfield Sponsor The Lighthouse at Clifford Electrical Carraroe Sligo presents €300 Voucher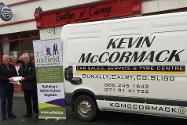 Oxfield Christmas Draw 2018 Sponsor Kevin Mc Cormack (Car Service Tyres & Sales) presenting 10th prize (voucher) to Oxfield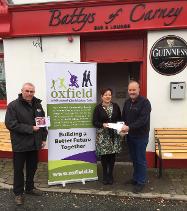 Anne Mc Cormack, proprietor Battys of Carney Bar & Lounge , presents a voucher to Oxfield as 13th prize
A BIG THANK YOU to all our 2018 Draw Sponsors to date:
Davis's Restaurant @The Yeats Tavern, Drumcliffe
Northwest Grass Machinery, Rathcormac
Martin Reilly Motors, Carrowroe
The Lighthouse @ Clifford Electical, Carrowroe
Coyles Centra, Cartron
Expert Electrical, Sligo
Mullaney's SuperValu, Grange
Jill Barber @ The Drumcliffe Teahouse
Kevin McCormack Car Service, Tyres & Sales
Brooks Building Supplies, Sligo
M&K Heating Oil, Sligo
Batty's of Carney Bar & Lounge
The Sligo Credit Union
Heather Langan
Carney Checkout
Bens TopLine Hardware, Drumcliffe
Gary Feeney
Michael Murphy Sports, Letterkenny
Michael Flannery Car Sales, Rathcormac
And a BIG THANK YOU to you for your support!